About Us
Product List
Contact Us
Coolville Display Co., LTD
Add: NO.17 North District Lingdou, Xiamen, Fujian, China
Tel: 86-592-5190736
Fax: 86-592-3778680
Website:
www.displayrackstand.com
Email:
info@displayrackstand.com
Contact Person : Ms. Demi Huang
Mobile: 86-18511413541
About Us
Coolville Display Co., LTD. is one ofthe leading manufacturers of in Xiamencity of China. We are specialized in designing, manufacturing and selling variouswire display racks and metal display stands for more than 12 years.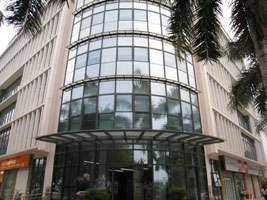 The main products include:

Wine Rack
Tile Display
POP Display
Literature Display
Storage Rack
Sign Display
Custom Display

Our factory is devoted to make highquality display racks, especially focusing on the study the assembled displaysand foldable racks. Advanced manufacturing equipments, most more than 7-year experiencedtechnical professionals, strict quality controlled, professional designer teamsguarantee our display racks not only good quality, stability and durable, butalso with the smallest packing saving space & shipping cost and moreconvenient to be assembled.
For clients' satisfaction and smile,our designers constantly improve our display racks and develop new styledisplay racks, which always amaze our clients. Custom-made displays are welcomed.A detail drawing offered to us, we are able to make any display racks for you.Even if only a design concept in your mind, we will change it to be a practicedisplay rack.
A group of excellent marketing teamsworking the same time with our oversea clients ensure to offer good customerservice. With the good quality, innovative display solutions, and competitiveprice, our metal displays and wire racks win the market and clients all overthe world, especially in America,Canada, Europe, Australia,etc.
Maybe we are the most professionals ondisplays in China; however, we will constantly improve to exceed ourselves.Give us an opportunity to cooperate with you, you will be satisfied!